About MyMoney.club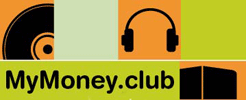 MyMoney.club is a savings club for 13- to 17-year-old members of Michigan Schools and Government Credit Union.
This program is a perfect way for older kids to learn the basics of wise money management. Some of the exciting reasons to join include:
Quarterly newsletters with cool activities and contests
Information about student loans and financial aid
Special incentives
Scholarship program opportunity
Free Educational seminars
If you know an older child that is a current member of MSGCU, sign them up for MyMoney.club! Simply call the Credit Union at 586.263.8800 or request inclusion in the club at any of our offices.
If they are a new member to the Credit Union, all they will need is $5 to open their account and a parent or guardian to complete the account opening process.
---
For MyMoney.club Members
No matter what you're saving for, MyMoney.club can help!
Check out the MyMoney.club Newsletter!
---
Youth Classic VISA Credit Card
Are you 16 or 17 years old and want your own VISA Credit Card? Set yourself on the path to financial responsibility with our Youth VISA Credit Card. If you need flexible spending power, talk to one of MSGCU's Member Service Representatives about getting our youth credit card.
Getting one is easier than you think! All you need is to:
Be a Michigan Schools and Government Credit Union member in good standing
Attend a Youth Checking and Lending Seminar or review the seminar material with a Member Service Representative
Have written parental consent
Have income (job or allowance)
A Michigan Schools and Government Credit Union Youth Classic VISA Credit Card features a low, fixed rate; free cash advances; free balance transfers; and no annual fees.
Go to main navigation