In The Community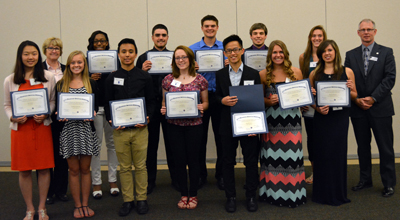 "People helping people" is a foundation that all credit unions are built upon. At Michigan Schools and Government Credit Union (MSGCU), this philosophy doesn't just apply to our members; our staff also reaches beyond office doors and immerses themselves in the communities they serve. From sponsoring charity events to financially educating our future leaders, MSGCU is proud to offer its support.
Giving Back
To celebrate 60 years of service through our Giving Back program, each MSGCU branch designates a month to donate time and resources to help a non-profit group or organization within their community.
Financial Education
MSGCU is dedicated to increasing the financial knowledge of both our members and the communities we serve. Our Consumer Education Specialists conduct a variety of workshops, classroom presentations, and community events to promote financial well-being in all age groups.
Business Development and Community Sponsorships
The Credit Union often provides financial support to community initiatives. Through paid sponsorships and/or gifts-in-kind, the Credit Union provides the support needed while taking advantage of the advertising opportunities that are offered in exchange.
Classroom Cash Grants
In a continuing effort to support educators in the community, MSGCU was proud to award 63 grants totaling more than $45,000 to fund innovative classroom projects through our annual Classroom Cash Grant program in 2016.
Scholarship Opportunities
As an educational Credit Union, we believe that individuals should be afforded the opportunity to better themselves through continued education. Therefore, MSGCU offered five scholarship programs to 35 students totaling $75,000 in 2016.
Employee Volunteer Efforts
MSGCU's dedication to excellence expands beyond our offices. Employees honor the values and core competencies held by the Credit Union through their volunteer efforts. In 2016, employees volunteered at approximately 120 local organizations, donating more than 3,200 hours of their time.
Go to main navigation