Background & History
For more than 60 years, our members have been reaching their financial goals using the resources they gain through their membership with Michigan Schools and Government Credit Union (MSGCU).
As a not-for-profit financial institution, we return revenue to members by providing lower loan rates and higher savings rates. Our field of membership is broad and includes educational and government employees; students and alumni; retirees; and family members of these groups in primarily Macomb, Oakland, Genesee, Lapeer, Livingston, St. Clair, Wayne, and Washtenaw Counties.
A small group of school teachers in Macomb County founded MSGCU in 1954, then known as Macomb Schools and Government Credit Union. Over the years, offices have opened, branches have moved, and our membership has grown to more than 115,000. However, through it all, our focus has remained on providing the best financial services possible.
With our roots still heavily intertwined with school employees, we strongly believe in the power of education and in furthering the learning experiences of our youth. Each year, we distribute more than $80,000 worth of scholarships to area high school students and adults enrolled in college. Additionally, the Credit Union also distributes over 60 grants, totaling nearly $45,000, to help educators fund classroom projects. Another example of how the Credit Union provides resources to help members.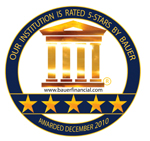 Because of our financial stability, MSGCU continues to thrive in an economic environment where other financial institutions are failing. We have consistently achieved Bauer Financial's (www.bauerfinancial.com) highest rating, five stars, and boast a member satisfaction rate of 97%, for 10 years running. We are growing; we currently have more than $1.9 billion dollars in assets and have 14 branches. All of this success means that your funds are safe, secure, and conveniently accessible.
You work hard for your money, and so do we. We thank our members for being loyal to MSGCU. If you have questions as to how we can further help you on your path to financial success, please visit any of our offices, or call 586.263.8800 or 1.866.MSGCU4U today!