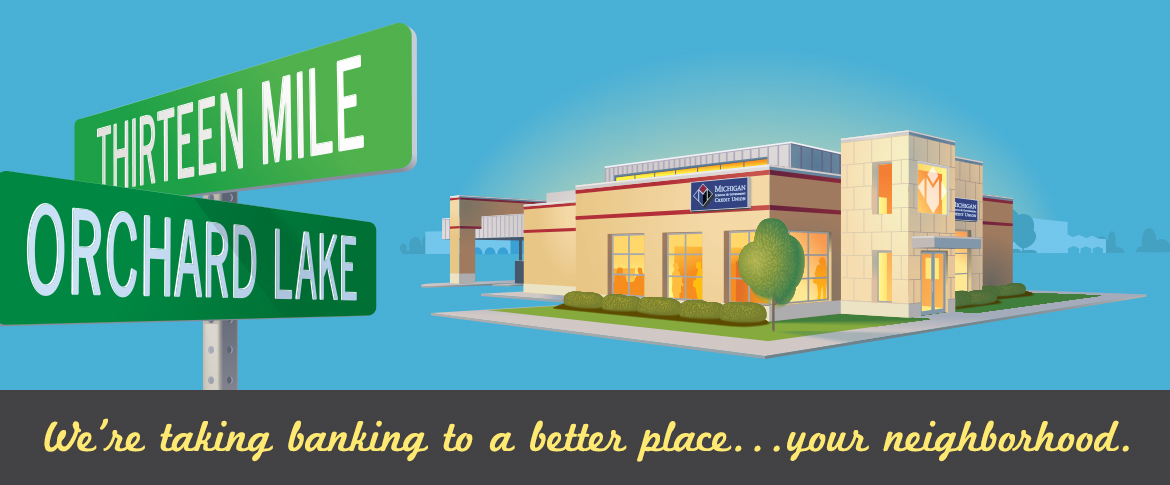 We are pleased to announce that our Farmington Hills branch, on Orchard Lake Road (just north of 13 Mile), is now open! This is our 4th branch in Oakland County and 14th overall. We are excited to bring all of the financial tools, resources, and support that our members expect from MSGCU to another location that is convenient to those who live and work in the Farmington Hills community. At MSGCU, we are dedicated to the financial well-being of every member. Let us work with you to understand your goals and discover opportunities to help get you there.
Not a member? Becoming one is easy. Call 866.674.2848. Visit any of our locations. Or click on Become a Member below.

Membership has its benefits.
Give yourself an after-holiday gift. Get up to $5001 when you transfer your credit card balances to an MSGCU Visa.
Earn 1.85% APY2 on our special 18-month CD.
Refer a friend to MSGCU and you could both earn cash.
Not for profit. All for members.
At MSGCU, we're here to make sure that our members are well on their way to financial success—in every way. From checking and savings, to loans and mortgages, to financial education and guidance, we have the services you want. But more than that, we have people dedicated to getting you where you want to be.
Here are just a few more reasons why people love us:
Low rates on all types of loans
Committed to giving back to the communities we serve
14 convenient locations
Classroom grants and scholarships
5-star rating by Bauer Financial
More than 60 years looking out for our members
Still need more information?
If you live, work, or worship in Michigan's Lower Peninsula, you could be eligible to become a member. Read over our membership requirements and please contact us if you have any additional questions.
Giving back to the communities we serve.
As part of our Giving Back program, this office is partnering with Operation Common Good to donate funds
that will support at-risk and homeless children within Farmington Public Schools.
Experienced. Professional. Here to serve.
With more than 117,000 members and a 97% satisfaction rating ten years running, our team members are your financial advocates.
Debbie B. — Branch Manager

Debbie has 20 years of experience in the financial industry and has received her Bachelor's degree from Madonna University. Debbie is very excited about working in the Farmington Hills community, particularly with the schools, local businesses, and city officials.

"Here at MSGCU, we are dedicated to promoting financial success for our members. We focus on building relationships with our members and the communities we serve. We truly are 'People Helping People.'"

Joshua B. — Assistant Branch Manager

Joshua has 9 years of credit union experience with 5 of them being at MSGCU. He has grown with MSGCU from a Member Service Representative to an Assistant Branch Manager. Josh is the Credit Union Advocacy Committee Chair and is currently working towards a management degree at Southern New Hampshire University.

"The Credit Union philosophy of 'People Helping People' is more than just a motto for me, it's a way of life. I'm excited to partner with the Farmington Hills community in helping them along their journey to financial success."
---
1. Subject to credit approval. For details, go to msgcu.org/disclosures/promo, visit a branch or call 1.866.674.2848.
2. APY=Annual Percentage Yield. Minimum balance to open account and earn advertised APY is $500. Penalty for early withdrawal. APY is offered as of 11/20/2017. Terms and rates subject to change at any time without notice.
Go to main navigation