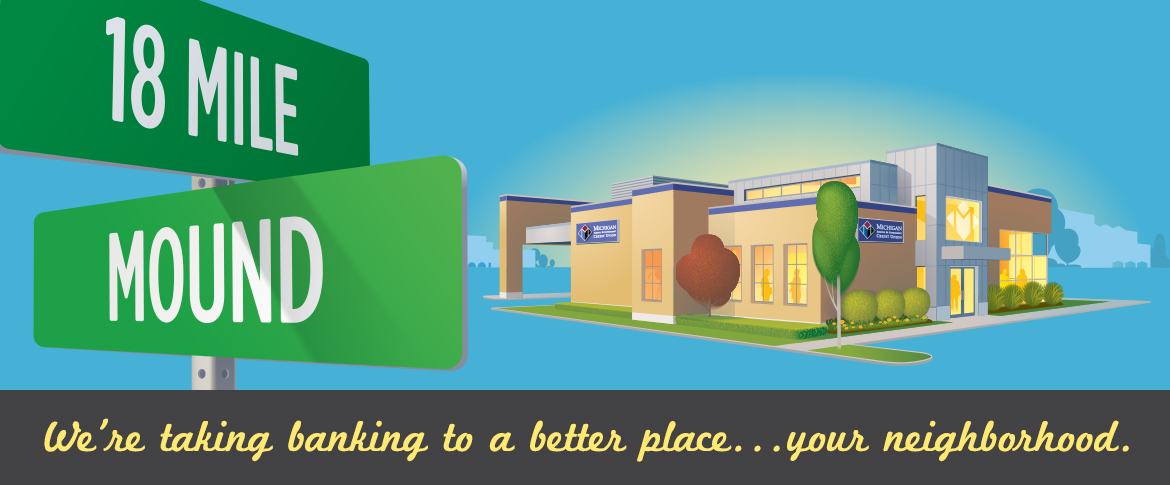 We are pleased to announce that our new branch at the corner of 18 Mile and Mound is now open. We are excited to bring all of the financial tools, resources, and support you expect from MSGCU to a location that is convenient to those who live and work in this community. At MSGCU, we are dedicated to the financial well-being of every member. Let us work with you to understand your goals and needs, discover opportunities, and build a plan to get you there.
Not a member? Becoming one is easy. Learn more by calling 866.674.2848, visiting any of our locations, or clicking on Become a Member below.

Membership has its benefits.
Get up to $500 cash back when you open a Home Equity Line of Credit.1
Be pre-approved for a Mortgage on the spot.2 Make your appointment today.
Refer a friend to MSGCU and you could both earn cash.
Not for profit. All for members.
At MSGCU, we're in business to make sure that our members are well on their way to financial success—in every way. From checking and savings, to loans and mortgages, to financial education and guidance, we have the products you want. But more than that, we have people dedicated to getting you where you want to be.
Here are just a few more reasons why people love us:
More than 110,000 members, with a 97% satisfaction rate
Low rates on all types of loans
Committed to giving back to the communities we serve
13 convenient locations
Classroom grants and scholarships
5-star rating by Bauer Financial
More than 60 years looking out for our members
Still need more information?
If you live, work, or worship in Michigan's Lower Peninsula, you could be eligible to become a member. Read over our membership requirements and please contact us if you have any additional questions.
Giving back to the communities we serve.
As part of our Giving Back program, this office is partnering with Angels of Hope to donate funds and volunteer time to support children—and those who love and care for them—as they battle cancer.
Experienced. Professional. Here to serve.
Jacqueline M. — Branch Manager

Jackie has 13 years of experience with MSGCU. Jackie opened the Warren branch successfully in 2012 and is excited about the opportunity to grow a new market for MSGCU and assemble a team that is focused on "People Helping People."

"Sterling Heights is a city that continues to grow and thrive. I look forward to working closely with the community, schools, local businesses and city officials. I'm excited for the opportunity to continue to educate the residents of Sterling Heights on what MSGCU stands for and how we can work with them to gain financial success."

Vivian S. — Assistant Branch Manager

Vivian has nearly 5 years in the financial industry and has grown with MSGCU from a part-time teller to Assistant Branch Manager. She is currently working towards her Bachelors in Business Administration at Southern New Hampshire University. She also speaks Arabic.

"I am truly honored and excited to be able to serve a community that I have lived in my entire life. MSGCU has so much to offer the residents of Sterling Heights and we will continue living out our mission of 'People Helping People.'"
---
1. Cash back incentive only applies to new qualifying HELOC loans applied for between 4/3/2017 and 7/31/2017 and funded on or before 9/30/2017; this is a one-time offer based on loan balance at 60 days from the loan funding date. For details, go to msgcu.org/disclosures/promo, visit a branch or call 1.866.674.2848.
2. Qualified income and asset documentation required for on-the-spot pre-approvals.
Go to main navigation