Troy Youth Assistance
on 3/29/2021
Troy Youth Assistance
Supported by our Troy Office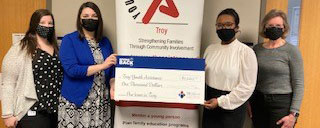 ---
The Troy branch presented their Year of Giving Back donation to Troy Youth Assistance, a non-profit organization that provides confidential, short-term, family-centered counseling and referral services for youth, 16 years of age or younger, and their families who live in Troy or attend Troy schools. The donation will be used for programs and efforts to help families whose cases are taken on each year. The donation will go toward planned renovations to the school's performance space. We are proud to support them with a $1,000 donation to advance their mission.
Category: Past Support
« Return to "Giving Back"