Let us help with your financial resolutions this year.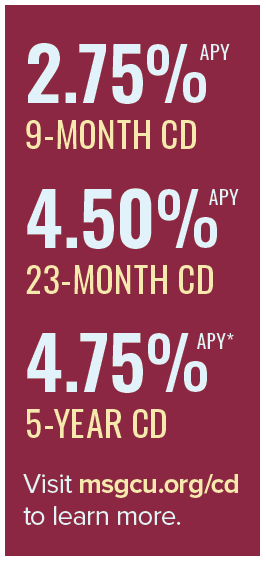 The start of a new year is the perfect time to think about your financial goals for the next 12 months. As your financial champion, we are here to help you achieve financial success in 2023 and beyond.
If building your savings is a priority this year, MSGCU offers various savings accounts and Certificates of Deposit to help grow your money. A savings account is ideal for accessing your money easily, such as an emergency fund, or for planned, larger purchases you'll make soon. If you already have these funds set aside and you're saving for a future goal, consider investing in a CD. They offer guaranteed, safe returns and flexible options, with terms from 6 months to 5 years, and a minimum deposit of just $500. MSGCU also provides market-leading CD rates to help you get the most out of your money.
All partnerships start with a conversation, so schedule an appointment with a team member at any branch to talk about the best savings option for you. We will work with you to create strategies that make your financial life convenient and productive in the short and long term.
Make an appointment to have a friendly conversation.
< Previous Article Next Article >
*APY = Annual Percentage Yield. Minimum balance to open the account and earn the advertised APY is $500. Penalty for early withdrawal. The APY is offered as of 12/14/2022. Terms and rates are subject to change at any time without notice. Insured by NCUA. Ask an MSGCU Representative for details.