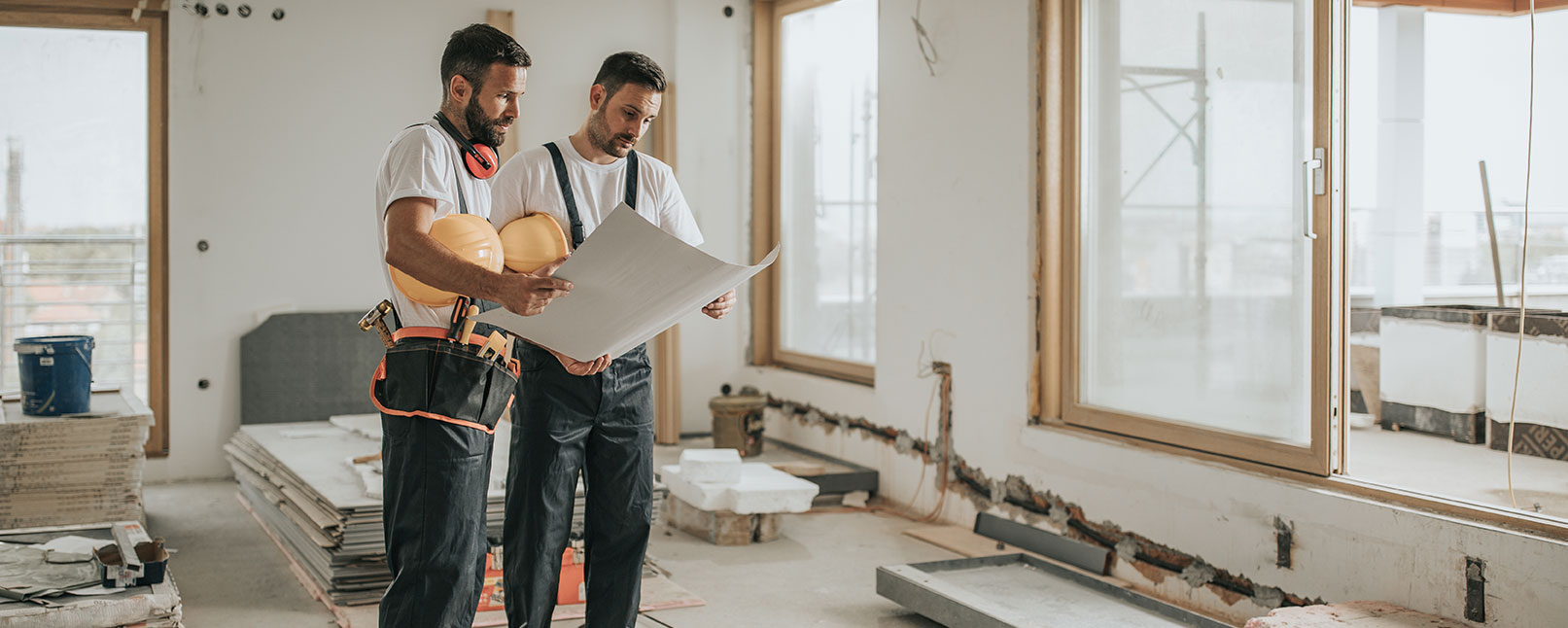 home improvement, renovations, new home, refinance, home renovations, home equity, home equity loan, HELOC, new home, homeowners, homebuyers
Your 2022 home goals: Tips for financing home improvements or a new home
on 1/31/2022
With many of us spending more time at home, a common goal for 2022 is to make that home more functional and comfortable…or, get into a new home altogether. With some uncertainty around the future of interest rates, now is a great time to consider your options. Here are some tips on how to finance your home-sweet-home goals for the new year.
Financing home improvements.
A home equity loan or home equity line of credit (HELOC, for short) is a great way to pay for home improvements.
Both home equity loans and HELOCs allow you to borrow a certain percentage (usually up to 90%) of the equity you have in your home. Equity is the market value of your home, minus whatever you still owe on your mortgage or other liens. If you've paid off your mortgage in full, your equity is the market value of your home.
A home equity loan is a loan for a fixed amount at a fixed interest rate. If you know the exact amount of money you need and you like the idea of locking in your rate from the start, this option may work for you.
A HELOC is a line of credit you can use as you need it, with a maximum limit. For instance, if you are approved for a $50,000 HELOC, you could use $24,000 now to renovate your kitchen, $14,000 to replace your roof next year, and $5,000 to redo a bathroom the year after that. You can borrow for a certain number of years, usually 10, the draw period. When the draw period is over, you'll have another period of time to finish paying off the amount you used. Michigan Schools and Government Credit Union (MSGCU) offers a 10-year draw period followed by a generous 15-year repayment term, though a 10-year repayment term is common at many banks.
Unlike a home equity loan, a HELOC has a variable interest rate, so your interest rate can change over the life of the loan.
Which is best?
According to MSGCU Region Manager Nicole Parnell, "It's really going to come down to your goals. But if you need flexibility, a HELOC is going to be the way to go." This flexibility can be helpful when a contractor goes over budget or renovations reveal unexpected problems. Having an available line of credit can also come in handy for other goals, like simplifying debt or financing college costs.
Now is a great time to get a HELOC at MSGCU for your home improvement project. When you apply before February 28, 2022, you could get a 1.99% APR* Home Equity Line of Credit introductory fixed rate for the first 12 months, compared to the current variable rate of as low as 3.25% APR*. Learn more.
Purchasing a new home
If you're ready to move on to a new home, these tips will help you make the right financial moves.
Get pre-approved – not just pre-qualified. Pre-qualification is just a discussion with your lender. A true pre-approval involves documentation. Bryan Genovich, Mortgage Lending Director at MSGCU, explained, "We're pulling your credit report, looking at your financial picture, figuring those numbers out, so that when you're out shopping, you can be confident you have the ability to purchase that dream home."
Do your homework.
Learn about the home-buying process before you start shopping. MSGCU offers a Homebuyers Workshop that will walk you through the process from budgeting to pre-approval to closing. You'll also learn about loan programs available for first-time buyers with lower down payment requirements. When you finish the workshop, you'll get a coupon that can save you up to $375 on closing costs to use toward a residential real estate appraisal when you get a mortgage from MSGCU. The appraisal coupon credit will be applied at the time of closing.
Compare rates wisely.
Some lenders will offer a very low interest rate but charge high fees and discount points that will leave you paying just as much or more. Compare annual percentage rates (APRs) instead. The APR includes the fees and points to give you the actual cost of your loan. "If my rate is really low and my APR is really high," said Bryan Genovich, "That means I'm paying a lot of fees. If my rate is similar to my APR, then I'm paying a fair rate with low fees."
Know yourself.
Just because you're pre-approved to buy a $300,000 home doesn't mean you should. If you love to travel or enjoy eating out often, leave breathing room in your budget for those expenses. Also, remember the additional costs that come with homeownership: property taxes, home and lawn maintenance, décor updates and more. These should factor into your decision as well.
The bottom line: Take your time. As Bryan Genovich tells homebuyers at MSGCU, "Your home is your biggest asset. It's important to take your time and shop around to find the best financing solution for you." MSGCU mortgage consultants are always available to counsel members, even if you're just starting to think about homeownership. "It's never too early to sit down and have a conversation, and we are open to everyone in Michigan. We enjoy helping people be prepared and informed as they go through the process."
Michigan Schools and Government Credit Union (MSGCU) can help you reach your home goals with financial guidance and market-leading loan rates. Give us a call at (866) 674-2848 or visit us at one of our 20 convenient branch office locations to talk through your options.
Category: Finance
« Return to "Blogs"