stimulus check, economic impact check, savings, covid, coronavirus
How to make your stimulus check work for you
on 4/10/2020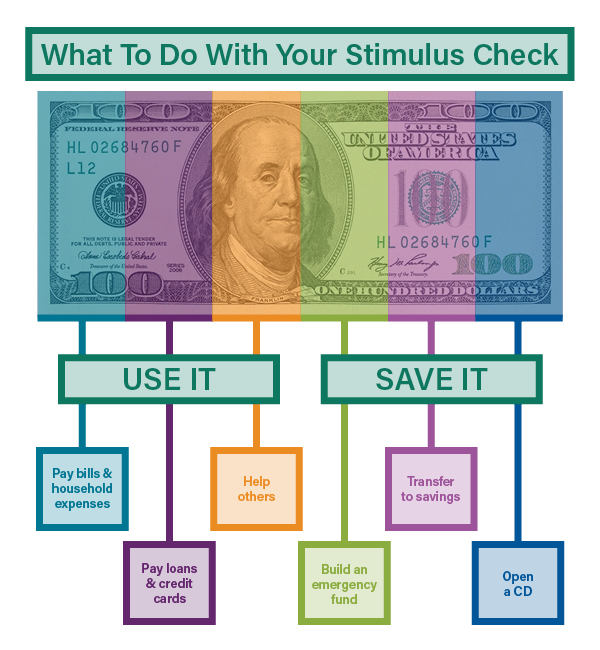 The Internal Revenue Service (IRS) is sending economic impact payments to many Americans in the coming weeks. These have commonly been referred to as stimulus checks in the media.
The economic impact payments are part of the Coronavirus Aid, Relief, and Economic Security (CARES) Act. CARES was passed by Congress on March 27, 2020. Learn more about CARES and why the checks are being issued at the Treasury's website.
Wondering if you're receiving a stimulus check? Find out from the IRS.
The majority of Americans who qualify for the economic impact payments will receive the payment via direct deposit using your banking information from your filed 2019 taxes. Other Americans will be asked to provide their banking information to the IRS online through a web-based portal. Lastly, some Americans will receive a check in the mail.
To provide information for a direct deposit: You'll need MSGCU's routing number and your account number. MSGCU's routing number is 272480173. Your MSGCU account number is located on your MSGCU membership ID card. It's also on the bottom of your MSGCU checks, just to the left of the check number. If you have a loan with us, you can also find it on your payment coupon.
If you receive a check: remember that you can deposit it to your MSGCU account quickly, easily and securely right from your home via the MSGCU mobile app. You'll simply take a picture of the check front and back. Don't forget to write "For Mobile Deposit Only at MSGCU" under your signature on the back.
Here are ways that you can put your check to work for you:
Use it
Pay bills and household expenses
One of the first priorities of your stimulus check may be to pay your regular bills and expenses. If you haven't already, make sure to sign up for bill pay in your MSGCU account - it's simple and free to use. Log in to your MSGCU account and select "Bill Pay" to get started.
Pay loans & credit cards
You can use the check to make an additional payment on your loans and credit cards. Any amount over your normal payment due will cut down the amount of time it takes to pay down the loan. Remember, paying more than your monthly loan amount pays the loan down faster; it doesn't move your next payment out. To pay an MSGCU loan or credit card, log in to your MSGCU account, select "Transfers" and follow the prompts. You can also pay non-MSGCU loans or credit cards using Bill Pay, which is located in your MSGCU online or mobile banking account. And, if you need to pay your MSGCU loan or credit card from a non-MSGCU account, you can use QuickPay.
If you're fortunate, help others
If you do not need to spend all of your stimulus check on bills or other necessities, consider helping others. Support your local community businesses by having your favorite local restaurant deliver to you or buy a gift certificate at a local shop or restaurant for use later. Use some of the money to buy a family in need a week's worth of groceries. You could also have dinner delivered to first responders in your area, donate to a local charity, or otherwise support a local small business.
Save it
Build an emergency fund
Your emergency fund should be about three to six months of living expenses. But if that seems daunting, try starting with a smaller amount. Whatever amount you are comfortable setting as your goal, commit to it and start saving. Open a new savings account in your MSGCU account and rename it as your emergency fund. To do this, log in to your MSGCU account and select "New Accounts" and then "New Savings Account or Certificate." From there, choose a secondary share and select how you'll fund the account.
Transfer to your savings
With an MSGCU Silver or Gold savings account, the more you save, the more you earn with our multi-tiered rate structure. And, rest assured all of your checking and savings accounts are insured by the National Credit Union Association up to $250,000. Simply transfer the check amount when you receive it to your savings in your MSGCU account. Watch a video how to transfer.
Deposit to a CD
Our high-yield CDs are a smart, safe investment offering steady growth for your deposits. They are insured by the National Credit Union Association up to $250,000. MSGCU offers a one-time rate bump for 3-, 4-, or 5-year regular CDs and IRA CDs, so if rates improve, you can jump to a higher rate in the future. To open a CD, log in to your MSGCU account and select "New Accounts" and then "New Savings Account or Certificate." From there, choose "Certificates" and select which CD option you'd like to open.
Category: Security
« Return to "Blogs"