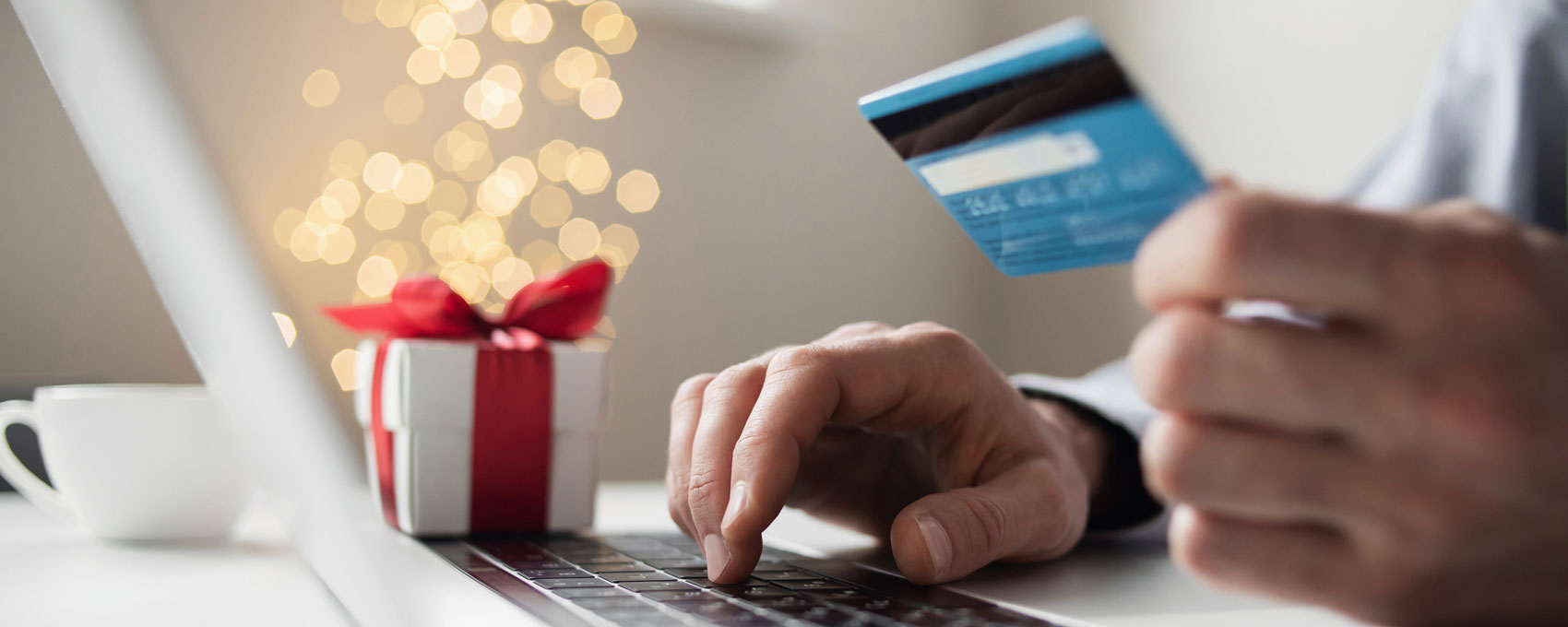 safe holiday shopping, holiday shopping, shopping, holiday
Safe Holiday Shopping for You and Your Wallet
on 11/23/2022
The holidays are here, which often means lots of delicious food and shopping for the perfect gift for your loved ones.

During this time of year, it's important to be safe and prepared as you take on the busy stores and online retailers. While we are looking for deals, scammers are also out looking to take advantage of unsuspecting shoppers. We're here to help you avoid being taken advantage of during the holiday season.

Follow these tips to safely tackle the holidays.
Before you shop
Protect your accounts with pay-by-phone and biometrics
You can add another layer of protection to your funds while you shop when you utilize pay-by-phone. Pay-by-phone (also known as mobile wallet, including Apple Pay, Google Pay, and Samsung Pay to name a few) is a secure, contactless payment option. You can connect your MSGCU Visa credit or debit card to your mobile wallet so you can pay with your smartphone at checkout, in stores that have contactless payment, and when shopping online. You'll be prompted to authorize your payment with your phone's biometrics (fingerprint or face typically) or multi-factor authentication (see more about this in our recent blog post). Transactions that are processed using a mobile wallet are heavily encrypted, meaning the risk of compromise is very low. This is a much safer and more secure option compared to carrying around a lot of cash and cards.

Learn how to use pay-by-phone here.

With pay-by-phone, you won't have to worry about losing your cards or forgetting your wallet at home. If you still prefer to use cash or cards, that's ok. Remember to only bring what is necessary to avoid losing anything or overspending.
In-Store
Set a budget and have a plan
At this point, you probably have your list (or least a good idea of who and what to shop for), which means you may also have a range of what you're able and willing to spend. And if you don't, we recommend setting your budget before you start shopping to keep your spending within your comfort level. If you know what you're buying, it could be helpful to only visit a few stores and only go to the ones you need to. Sticking to your list and budget while you're shopping will ensure you don't go over what you originally planned. The store shelves will look tempting, but don't stray from your list!
Be aware of your surroundings
It's important to always stay vigilant. Be mindful of who is around you and if you're being followed or watched. Shopping with a relative or friend is always safer. Plus, shopping with someone else can be fun - you can even hold each other accountable to stick to your budget and plan.

Never leave gifts and expensive items where they can be seen in your vehicle. Unfortunately, vehicles can be broken into, and valuables can be stolen. If you plan to buy a lot of gifts, make your trips quick and park in well-lit areas that likely have cameras. If you must leave gifts in the car, keep them in your trunk or cover them up so they are harder to spot. If you drive an SUV that doesn't have a retractable trunk cover (or sometimes called cargo cover), consider investing in one to be able to hide the contents. And ALWAYS make sure your car is locked before you leave it. While these methods won't always stop theft, they will make your purchases less pronounced and appealing to thieves.
Avoid the crowds
Fighting traffic, pushing through crowds, and waiting in lines for a holiday sale can be chaotic and stressful. Try to shop in stores during less high traffic times or avoid the crowds entirely with online shopping. And shop early. It'll help you avoid the stress of last-minute shopping and ensures enough time to receive your gifts for the holiday.
Online shopping
Avoid online shopping scams
Scammers are busy at work, even during the most festive times of the year. That means "amazing deals" will likely make their way into your inbox. If you receive emails from retailers you don't know or didn't sign up to receive correspondence from, avoid opening or clicking on anything in these emails. Remember, if a deal is too good to be true, it could be a scam.

Tip: If you wonder if a sale is valid, contact the company or go to their trusted website directly, not via the link in an email.

It is also important to only shop on websites that are secure and that you trust. You should never enter your credit card information into an unsecure website. Secure websites will often display a lock near the website address. Learn more about the differences between secure and dangerous websites, including additional statuses for unsecure websites.

When paying online, it is recommended to use your mobile wallet or a credit card since these are not linked directly to your personal funds. However, make sure you stick to your budget so you don't spend more on your credit card than you can pay off at the end of your billing cycle. Debit cards are still a safe option as they are backed with zero liability for you should the card be compromised. However, because your debit card is linked to your checking account, there can be added hassle should someone get a hold of it.

This blog has even more tips to help protect yourself online.
Track and collect your packages
You've found the perfect gift, now you're waiting for it to arrive. As online shopping has soared in popularity, package theft or porch piracy has too. When packages are left outside too long, it can increase the chances of someone swiping your gift. Consider monitoring your package's delivery status to ensure you're ready for it. Many online stores make it easy to track your package as it makes its way to your home. When your package is delivered, it's important that you collect it as soon as possible (watch for delivery emails or app notifications from the seller).

Taking these steps to ensure you and your accounts are safe and protected are truly the best gift you can give yourself this holiday season.
Remember:
Contact MSGCU immediately if you think you've been a victim of a holiday, or any other, scam.
Update your password to Online or Mobile Banking if you believe your account has been compromised.
With pay-by-phone, you can shop with ease this holiday season. Set up your mobile wallet and further protect your account today! You can set up online, stop by a branch, or call our call center.
Category: Security
« Return to "Blogs"